Comparing Livability: Iloilo, Cebu, and Davao (Part 1)
Economic Tiger Cities of the South
Outside Luzon, the most progressive and developed cities are Cebu, Iloilo, and Davao. They are the crème de la crème as far as metro cities are concerned.
Ever wondered what made them a cut above the rest?
It's not just one thing, that's for sure. It's a combination of different factors. So, while we examine the features that made them great cities, let us also try to compare them.
Welcome to the first of many series of Comparing Livability: Iloilo, Cebu, and Davao.
Note: It would be hard to look at Cebu and compare objectively because it's one of the pioneering provinces in the Philippines, and composed of neighboring cities which forms a major part of the Cebu Metropolitan Area. So allow the piece to loosely take Cebu as Cebu City alone, or as Cebu Metropolitan Area (Metro Cebu).
Another Note: I'll try my best not to bore (or scare) you with figures. Google is your friend too. But I'll try my best to 'infortain' you with images and visual aids.
Size and Population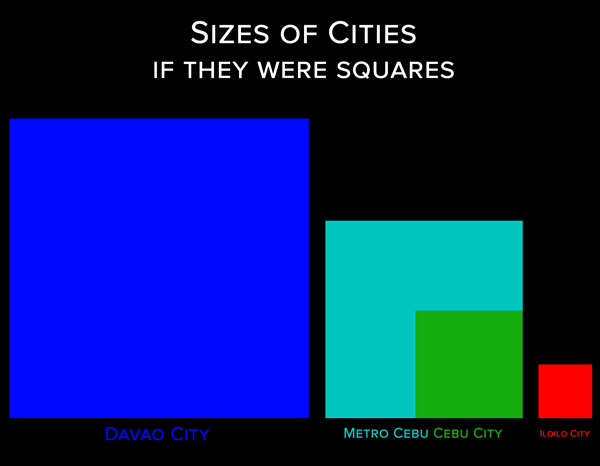 Davao City is the by far the largest city — even larger than the whole of Metro Cebu. It is so large that it is even considered sizable even in global standards.
Davao City is like the Texas of Philippines. Everything is bigger there.
With that said, Davao City has the greatest potential for further progress in many years to come because there's so much land to develop. Also, because of it size, it's not overcrowded.
It should be understandable that some parts of Davao City may still be underdeveloped and may feel like a rural area. But this is only a good thing. With smart zoning and careful planning, the city can only improve and become better.
Cebu City on the other hand is a small city when taken singularly. Now if you include its posse of neighboring cities, Cebu is a large Metro. But unlike Davao, Cebu is heavily developed in every space that it has. And there is always a catch — for being a small heavily developed city with lots of local and international tourists coming and going, Cebu city is getting overcrowded
Cebu has always been the star city of the Philippines particularly for tourists. According to majority of foreign visitors, it is the place to go to when visiting the country. It's favored more than Manila. The downside to that kind of tourism surge is overpopulation. Right now, the local government is doing the necessary steps to improve in this aspect.
As you can see from the image at the top of this article, Iloilo is just like a closet space if Davao is a 3-bedroom condo unit. It's that small. Naturally you would assume that it's overcrowded but it's not. Interestingly, Iloilo City is just a small part of a greater Metropolitan area. The area surrounding the city is also well-developed and population spread out to these city outskirts and to the developed municipalities.
Taken as an administrative unit with finite boundaries, Iloilo City is as small as it gets and there is really nothing that can be done with it. But it should be noted that crowd control in Iloilo is done in a very effective way. A number of quality residential subdivisions are at the outskirts and they are like the suburbs. There are also options for condominiums for people that really want to live within the heart of the city.
The small size of the city also allows business operations to be carried out seamlessly and in timely manner. This makes the city conducive for business investors.
So there you go.
Again, this is just the first of the series. There will be more. Next, we will try to explore Education and Employment — a big factor of a city's livability.
Until then. Ciao!