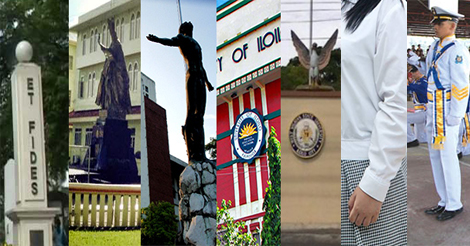 Every Ilonggo is a proud Ilonggo wherever they are, and Pride of your Alma Mater is probably the next most powerful thing.
It's only natural to feel proud of your alma mater because you simply recognize that you are what you are now because of the education your university has given you.
Here are the 8 universities in Iloilo City.
Just click the tab to navigate between universities…
CPU
1. Central Philippine University
Location: Jaro, Iloilo City
Motto: Scientia Et Fides (Science/Knowledge and Faith)
Students nickname: Centralians, Taga-CPU
Year Established: 1905
Type: Private Coed
Hymn: Central, My Central
Colors: Gold and Blue
Publication: The Central Echo
One of the oldest and most popular Universities in Iloilo City. It is a non-sectarian institution but popularly recognized as a Protestant-affiliated school.
CPU is also the largest and most populous academic institution — reaching about 15,000 students this school year. This is mainly because the university has a well-balanced competency in a wide array of courses they offer.
CPU has always been a great school for medical and healthcare related degrees particularly nursing and medical technology.
With the help of its own university hospital, Iloilo Mission Hospital, CPU has bred globally competent nurses and medical technologists and technicians. Now, it has a strong medicine degree program and also offers other healthcare related courses which is not being offered in other schools in the city. The university also offers excellent engineering, law, and theology programs
CPU prides itself for having a strong alumni support.
USA
2. University of San Agustin
Location: General Luna St, Iloilo City
Motto: Virtus et Scientia (Virtue and Science)
Student Nickname: Agustinian, Taga-San-Ag
Year Established: 1904
Type: Private, Research University, Coeducational
Hymn: USA Hymn
Colors: Red and Gold
Publication: The Augustinian Mirror (USA Publications)
USA holds the distinction as the first University in Western Visayas. It is also the only Augustinian University in the Asia Pacific region.
Ilonggos commonly refer to the institution as San-Ag.
Before it attained the university status, San-Ag was almost completely destroyed during the second World War. With almost the entire college in ruins, the institution is at the brink of totally closing down but some friars pushed for its immediate rehabilitation. It eventually reopened in 1945 and followed by a rapid expansion and was granted university status on March 1, 1953 — a year before its Golden Anniversary.
Now, USA is considered to be one of the best schools in Western Visayas. It has a strong College of Liberal Arts program since the 50s up to now. The university consistently produces Pharmacy and Medical Technology topnotchers.
College of Law, Nursing, and Technology courses like Engineering and Architecture are also excellent.
UPV
3. University of the Philippines Visayas
Location: Gen Luna St, Iloilo City and Miagao, Iloilo
Motto: Honor and Excellence
Student Nicknames: UP-ian, Isko/Iska, Taga-UP
Year Established: 1918
Type: National, research university
Hymn: "U.P. Naming Mahal" ("U.P. Beloved")
Colors: Forest Green and Maroon
Publication: UP Views
A constituent university of the University of the Philippines system, it is one of the most prominent educational institutions in the Visayas region. UPV has two campuses in Iloilo. One in Iloilo City and one in Miagao considered to be the main campus.
The Iloilo City campus was actually the first to operate but when the Miagao campus was established, many of the academic programs offered in the Iloilo City campus were moved there. Interestingly to this day, the faculty, staff and students regularly travel between the Iloilo City and Miagao campuses.
The College of Management, most of Graduate studies, and UPV High School is in Iloilo City campus along with the popular courses. While the Miagao campus caters mainly marine science education and research, fisheries, and aquaculture.
UI
4. University of Iloilo
Location: Rizal St, Iloilo City
Motto: Excelsior
Student Nickname: UI-nians, UI-Phinmanians, Taga-UI
Year Established: 1947
Type: Private Non-Sectarian
Hymn: "UI Hymm "
Colors: Dark green and Gold
Publication: UI Star
Established by the Iloilo City mayor in 1947 and eventual Philippine Vice President, Fernando H. Lopez, UI started as Iloilo City Colleges (ICC).
UI began with very humble beginnings. The first classes were held in Quonset huts. Nevertheless the 50s and 60s had been a strong couple of decades for ICC as it expanded and offered newer courses to meet the needs of the community and the challenges of a growing student population.
It was in 1966 that the College of Criminology (now Criminal Justice) was opened in Rizal Street in Iloilo City, the main campus of ICC. Criminology eventually became UI's flagship course. In December 17, 1968, ICC was granted the university status, making it the 32nd university in the Philippines. ICC was renamed the University of Iloilo.
In 2008, the University of Iloilo was acquired by Philippine Investment Management (PHINMA). It officially became part of the PHINMA Education Network (PEN) in April 2009.
Apart from The College of Criminal Justice, UI offers strong programs in Arts and Sciences, Education, IT, Engineering and Maritime, Nursing, Law, Management and Accountancy along with competent Graduate Studies.
WVSU
5. West Visayas State University
Location: Luna Street, Lapaz, Iloilo City
Motto: Service, Harmony, Excellence
Student Nickname: Taga-WEST (From West)
Year Established: 1902
Type: Normal, State, and Research University
Hymn: WVSU Hymn and March
Colors: Blue and Gold
Publication: Forum-Dimensions
Although formally established in 1924, WVSU was founded on June 16, 1902, as part of the early Philippine normal school system under the American occupation. So based on founding date, it is the oldest university in Iloilo City.
Formerly known as the Iloilo Normal School (INS), it became the West Visayas State College in 1965 and achieve university status in 1986.
WVSU offers a wide array of courses. However the university is best known for producing the best teachers, nurses, and physicians over the past several years until now.
In 1987, WVSU acquired the Don Benito V. Lopez Memorial Hospital, which became the official university hospital, a perfect training ground for the university's nursing and medicine students.
WVSU's mission is "To produce globally competitive life-long learners." And they're doing well with that.
SPUI
6. St. Paul University Iloilo
Location: Gen Luna Street, Iloilo City
Motto: Caritas Christi Urget Nos ("The love of Christ impels us")
Student Nickname: Paulinian
Year Established: 1946
Type: Private University
Hymn: Paulinian Hymn
Colors: Green and Gold
Publication: The Paulinian
The Sisters of St. Paul of Chartres primary aim was to care for the poor and the sick, thus St. Paul Hospital was established in 1911.
However, the care of the poor and the sick was not the only apostolic mission of the Sisters of St. Paul; they have also been founded for the purpose of training and educating the young. Thus, the Sisters under the leadership of Mother Josephine de Jesus opened the School of Nursing 35 years later.
Fast forward to today, St. Paul is known as a hospital and an educational institution in Iloilo. The hospital has grown to become a reputable medical institution. On the other hand, the school ultimately achieved university status in 2004 and is now offering various courses.
SPUI, since its conception, has devoted much of their efforts to the School of Nursing as the university has been consistently producing world-class nurses.
Now, the institution offers quality education in various academic programs. Notable courses are BS Physical Therapy and BA Mass Communication.
Soon, the whole university will relocate to a 6.2-hectare land in Barangay Ticud, La Paz.
JBLFMU
6. John B. Lacson Foundation Maritime University
Location: MH del Pilar St, Molo, Iloilo City
Motto: "We Are Second to None"
Student Nickname: Lacsonian, Taga-JohnB
Year Established: 1948
Type: Private University
Hymn: JBLFMU Hymn
Colors: Navy Blue,Yellow,White
Publication: The Seagull
Formerly called Iloilo Maritime Academy, JBLFMU is a pioneering private maritime education and training institution in the Philippines and the first maritime school in the Vis-Min area.
The start of the school is very interesting. A gifted seafarer named Captain Juan Bautista Lacson assisted seafarers in preparation for the licensure examinations. This unstructured organization of review classes grew popularity because of effectiveness but came to an abrupt halt when the War broke out.
When the war ended, Capt. Lacson created a maritime academy with help of his brother Frank. The academy was established in 1948, and it had 60 enrollees.
In 1985, Iloilo Maritime Academy assumed a new name, John B Lacson Colleges Foundation in honor of the founder. The name again was changed to John B. Lacson Foundation Maritime University in 2007 when it became the first maritime university in the Philippines.
Nobody would dare question the quality of maritime education of JBLFMU as it continue producing qualified and competent manpower for the seafaring world since its foundation.
ISAT-U
7. Iloilo Science and Technology University
Location: Burgos Street, La Paz, Iloilo City
Motto: "Labor is Honor"
Student Nickname: ISAT-ians, Tradeans, Taga-ISAT
Year Established: 1905
Type: State University
Colors: Blue, Gold
This school was established in 1905 as an elementary trade school known as the Iloilo Trade School. In May 1983, by virtue of Batas Pambansa Blg 395, the school was converted into a chartered state college known as the Western Visayas College of Science and Technology.
The College has grown into a leading technological and professional manpower development institution as it serves Region VI and the whole country.
In 2013, Iloilo City gained another state university with the conversion of the Western Visayas College of Science and Technology (WVCST) into the Iloilo Science and Technology University (ISAT-U).
The conversion was realized after President Benigno Aquino III signed Republic Act No. 10595
The Iloilo Science and Technology University has five campuses to date: Iloilo City, Dumangas, Miag-ao, Barotac Nuevo, and Leon.
Are you a graduate of one of these Iloilo Universities? What are your fond memories of your alma mater? What do you like most about your school?
Comment below… OR…
SHARE THIS STORY WITH YOUR FRIENDS


http://iloilocondominiums.com/wp-content/uploads/2015/08/UNIVERSITIES.jpg
246
470
admin
http://iloilocondominiums.com/wp-content/uploads/2014/01/iloilo-condominiums-logo1.png
admin
2015-08-21 08:26:29
2016-09-10 16:01:29
8 Universities in Iloilo and Why They're Awesome