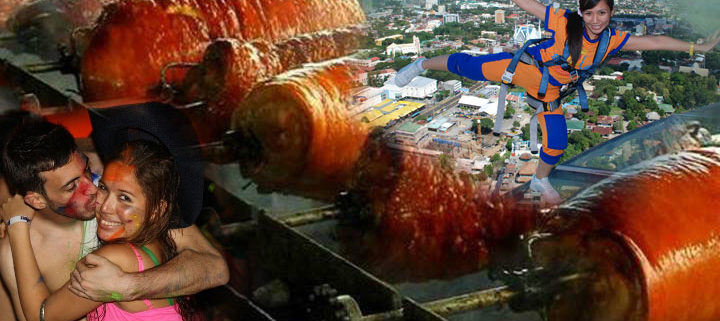 An Ilonggo who had been living in Cebu for almost seven years, shared his thoughts about his adoptive city on social media and his post has been getting plenty of interesting reactions from his peers.
He had spent the first half of his adult life in Iloilo City, and the other as a hardworking pseudo-Cebuano, but it is in Cebu where he truly lived independently. As a Psychology graduate, it's natural for him to observe even the minute of details. Thanks to his quirkiness, we have our brains something very insightful to chew on.
Below is a copy of his post. Images were just added for entertainment. Enjoy.
My 40 Thoughts About Cebu
After living in Cebu for almost 7 years, I just wanna share my thoughts about what I have experienced here. I love Cebu and I can say that I have found a 2nd home here. To my friends and relatives here in Cebu, just correct me if I got some of these wrong or let me know if you have anything else to add. Note that these are only my observations and opinions. Each one is entitled to his own. So here are my 40 thoughts about Cebu:
Rice is very expensive!!!😟 Not the "puso" rice nor that of fastfood chains, but the real rice itself. A cup could reach up to 15-20 pesos at a normal carinderia.
Cebu City is a paradise for the LGBT folks. If you are a part of this community and you wanna have more people to relate to and wanna see the latest trends and practices related to the LGBT community, come and live here.
A lot of roads are very narrow, causing much traffic. And it's getting worse (this means progress though). I've seen Cebu grow to become the giant that it is today. It's just that the roads have not been widened that you'd sometimes feel suffocated. As the famous saying goes, there is always two sides of the coin. Yes, Cebu is growing. But its growth has been very haphazard. I've read good things coming though, like a mass transit system (LRT) and some freeways in the works.
Though not all, Cebuanos, in general, have no or only very limited idea about Iloilo or other cities and provinces in the country. I grew up knowing a whole lot about Cebu, so I wonder why it isn't the same case for them.
Cebu has indeed the best lechon in the country!!! Hands down. One should just know where to buy the really good ones because some places have salty lechon. And one more thing, they're not big on the skin being crispy. It doesn't really matter to them because the meat tastes so good. I suggest you try House of Lechon and Rico's. I also love the spicy lechon of Zubuchon.
If vendors don't have coins as change, they give candies as replacement. I was suprised by this practice the first time I experienced it.
Cebuanos are japorms people. Stylish and bold. They're updated with the lastest fashion trends and are not afraid to wear whatever they like. They should be considered as fashion examples to all, whether to a fashionista or just to a normal tao.
Egg is included in their batchoy and they possibly don't know how delicious the real thing is. Sad to say, the last Ted's Lapaz batchoy here already closed down. You can't find good batchoy anywhere here. There's also almost no arroz caldo here or I just dunno where to find 'em.
Either they couldn't speak Tagalog fluently or they don't want to. I just wonder why despite the numerous Tagalog teleseryes at night, they still haven't managed to speak Tagalog fluently. This does not hold true to everyone though, mind you.
Beer is done by "tagay." The 1st time I experienced it, I was appalled! It was a shocking moment for me! Haha! It's a tradition here. Only in Cebu!
Local bands or artists are supported a lot and there are lots and lots of terrific singers. The talent here is overflowing. More people here need exposure because the potential is really great. I would want to date a Cebuana singer anytime.😍
Seafood is also VERY expensive. Not sure why, but maybe because it's not considered a coastal city?
Multicabs are used as jeepneys, just big enough for my body to fit in. Riding a jeepney is already difficult. What more if it's a multicab you ride in?😑
a) The motorcycle population reminds me of Roxas City. There are billions of motorcycles here!
b) But the number of beautiful Cebuanas is in the trillions! Everywhere you go or look, you get a stiffneck because there's always a face worth marrying.
This I'm not totally sure of, but I have observed that Cebuanos aren't as thrifty as the Ilonggos. They spend everything they have to the last cent. YOLO is the motto at least of the millenials, spending all they have here and there. You know why? Because in Cebu, people have jobs. They have money to spend. There is an infinite number of jobs here. The BPO industry is thriving and is in the top 10 in the world (#8, I think).
Hotels are a whole lot cheaper here than in other cities I've been to.
They aren't used to listening to sweet accents or sweet voice tones. Being sweet can be considered as gay here.
Tourism is incredible! That's why Cebu is the #1 tourist destination in the country. There are tourists and expats everywhere. Some have already migrated here. It's a normal day to pass by a foreigner or groups of them.
The Handuraw Special pizza is my favorite pizza in Cebu! You just gotta taste it!
If you're a beach bum, Cebu has hundreds of beaches to choose from.🌴🌴🌴
La Vie Parsienne is the most beautiful place in Cebu. Trust me.
Tourist spots within the city itself are abound! The beautiful locations you see in pictures or postcards are real.
Street children rap for you and sing you Christmas carols inside jeepneys, complete with beatboxing. It's priceless. Some people just don't realize this.
UP isn't a big deal.😨 People here don't really see it as the #1 university in the country. I think maybe because there are also lots of really good universities here.
Cebuanos are Catholic fanatics. Though we are considered a Catholic nation, I have never seen a people with faith as strong and as firm as theirs.
The Sinulog Festival is similar to the Kasadyahan Festival of Iloilo City. The contest itself isn't really as heartpoundingly exciting as the Dinagyang because it is faith-oriented. But believe me when I say that it is the biggest and most participated festival in the Philippines. Millions come here to celebrate and having been able to attend it almost every year is always a memorable experience to me. Pit Senyor!
Cebuanos love and support their own, and they're not shy about it. Their pride, conviction and loyalty to their city and province is incredible. I wish the whole Philippines had this kind of mentality for the country.
Cebu is going to be a mega metropolis. Watch out, Pinas! Building construction is nonstop, making Cebu one of the most business-friendly cities in the Philippines.
Pungko-pungko is a major hit. There are lots of them here and they're everywhere. I'm not a fan, sorry, but it's amazing to know how people consider it not only as special food, but also as avenues for bonding. Google "pungko-pungko" for more info.
Cebuanos are very liberated. Though religion is big here and there are still some conservative ones, most people here are open to anything and everything.
Ginger is included in almost everything they cook. Yeah, ginger is good, but sometimes it just makes a particular dish taste different. Only here have I tasted bicol express and sinigang with ginger.
Vehicles run very fast everywhere, including busy streets. I really thought I would die here by being hit by a car or something.😂😂😂
Mactan International Airport is super busy, all the time, any day.
Sports bars here don't die. Partly because there are lots of foreigners and also because locals support these bars.
You can see luxury sports cars everywhere, making you sometimes wish you'd want to own one.
The malls are fast becoming more modern and most anything can now be found in SM, Ayala, or Robinson's (Galleria).
Cabs ALWAYS use their meter no matter how far your destination is and taxi drivers here aren't as scary as those in the Philippine capital. You can ride a taxi here and expect friendly drivers.
Cebu is very rich in history. You'll find lots of historical places here like the Magellan's Cross, Basilica Minore del Sto. Niño, and Fort San Pedro at Plaza Independencia (similar to Fort Santiago). They've also managed to preserve a few old houses.
And speaking of old houses, it's a fad here that they're being transformed into bars and restaurants, which is also a cool thing instead of destroying them. Examples of these are Handuraw in Gorordo Ave., Circa 1900 and The Monastery in Lahug, and Iamik's Chicken & Beer in Mabolo.
Cebu is a taste of Little Manila. What you have there, you also have here in Cebu.
There it is! I may have missed mentioning other things I've observed and loved, but I am always grateful I got to live here on my own for almost 7 years. It's always been hard to be away from family and close friends, but this is the place where I learned how to cook, wash my clothes or do laundry, manage my finances, and most of all, be strong no matter how sick I was and how difficult life may be. Cebu had taught me how to survive. If I were given a chance to maybe relocate back here in the future, as long as I'm with my family, I wouldn't have 2nd thoughts about it.
I love you, Sugbo. You will always have my heart. Goodbye for now.
http://iloilocondominiums.com/wp-content/uploads/2017/02/cebu-iloilo.jpg
405
720
admin
http://iloilocondominiums.com/wp-content/uploads/2014/01/iloilo-condominiums-logo1.png
admin
2017-02-12 12:41:35
2017-02-12 13:02:02
40 Thoughts About Cebu (From a True-blooded Ilonggo)