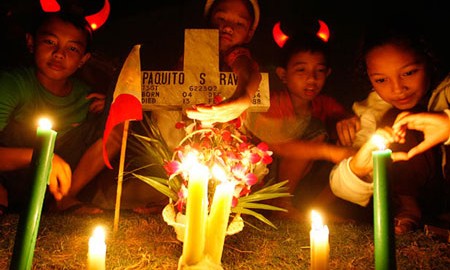 Filipinos have the longest holiday celebrations as they tend to observe religio-cultural events for several days. All Souls' Day is just one of the major holidays observed in the Philippines.
It should be noted that All Souls' Day is observed by Filipinos in conjunction with All Saints' Day (Todos Los Santos), and Halloween.
All Souls' Day, also known as Undas or Araw ng mga Patay in Tagalog, is Piyesta Minatay in Ilonggo. Interestingly, its official date is on November 2 but is traditionally celebrated on November 1 which is supposedly pegged for All Saints' Day.
As of late, Halloween is also actively observed by Pinoys on October 31 as influenced by western culture.
Parties and "Trick or Treating" are customarily done on Halloween commonly by the younger generation. The 3-day celebration is then highlighted on the 2nd day (November 1) when Ilonggo families flock cemeteries to commemorate and pray for their dead loved ones. People usually cleanup or rest on November 2; some may still be keeping vigil on graves but during this time, cemeteries are not as crowded.
Here are some prevalent Piyesta Minatay traditions still being practiced by Ilonggos:
1)      Serving food to the dead
During Piyesta Minatay, Ilonggos prepare food for visiting relatives which is eaten at home or in cemeteries. Not to be ignored, our dead loved ones are also served with the very food we prepare — it's their day after all. This so-called meal for the spirits is often placed on altars with lighted candles.
2)      Valenciana and Native Delicacies
Preparation of native Ilonggo delicacies (kakanin) is a well-preserved tradition during Piyesta Minatay. Kalamay-hati, ibus, suman, baye-baye, and other delicacies with glutinous rice and coconut milk are being served and feasted upon. Perhaps the only non-Filipino food in the mix is the walang kamatayang Valenciana — a food of Spanish origin.
3)      Prayers for the dead
Pinoys are prayerful — no surprise there. But during Piyesta Minatay even the most non-religious of the Ilonggos take part in praying for their dead. This is rooted from the belief that our prayers for the souls in purgatory help them get out of it and achieve eternal life in heaven.
During Piyesta Minatay, Ilonggos often 'hire' priests to lead the prayers for the dead. These priests basically wander around the cemetery from grave to grave. People also practice giving lists of their dead for the 'pamisa'.
4)      Family Picnics
Along with prayers and keeping vigil, Ilonggo families keep the mood jovial by having picnics with friends and relatives. More often than not, friends and relatives belong to the same memorial park and it is one of those rare chances that they get together to remember and share things about the people who already passed away.
Most memorial parks in Iloilo (e.g. Christ the King, Forest Lake, Green Garden) are well kept and very conducive for picnics. There are even booths that sell snacks and fast food. It is very common to see canopy tents setup on burial grounds with people laughing and eating (when they are not praying of course) in them.
Come to think of it, Piyesta Minatay for Ilonggos is more of a celebration of life rather than mourning of death.
5)      Kids Playing with Candles (even adults)
Kids playing with melted candle wax is a common sight. They try to make balls of paraffin wax and try to make them as big as they possibly can. Back then, kids collected melted candle wax and sold them to candle makers.
Nowadays, kids just play with candles as far as their imaginations allow them. When candle-shaping becomes too boring, kids usually chase each other around the park and maybe play with glowing sticks, gliding toys, balloons etc. There is plenty of kids' merchandise as November 1 is big business for some entrepreneurs that cater to kids demands.
http://iloilocondominiums.com/wp-content/uploads/2014/10/kids-cemetery.jpg
349
450
admin
http://iloilocondominiums.com/wp-content/uploads/2014/01/iloilo-condominiums-logo1.png
admin
2014-10-29 10:50:02
2016-11-01 06:56:18
5 Ilonggo All Souls Day Traditions (Pista Minatay)