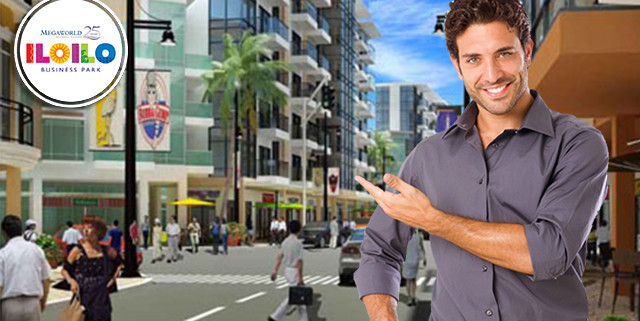 There is no doubt that this bustling metropolis is making a name as the next center of investments, economic affluence, and development; a city of opportunity that is shaping the future of Western Visayas.
Iloilo City is shedding another side of its eloquence and splendor – its newfound fame as the next vibrant city for investment and economic prominence, creating an image of globalization, bridging the glory of its past and its present rise.
Life in Iloilo is simple and serene. Its old-world charm, ecological harmony, and well-managed urban planning create a balance between developments and environmental preservation. Investment potential of the city is surging high because of its business-friendly and global perspective programs, visionary efforts between public and private partnerships, strong leaders working with its people to pursue the goal of fast-forward thinking and progress without neglecting the city's cultural and ecological resources.
THE CENTRAL BUSINESS DISTRICT
Iloilo Business Park is a magnificent business township transformed vibrantly of what used to be the old Iloilo airport property in Mandurriao, Iloilo City.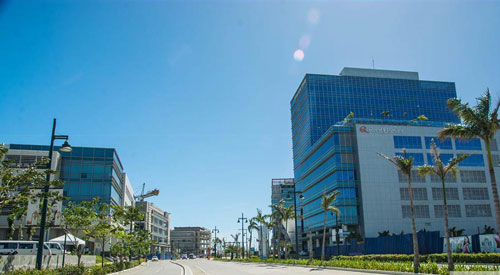 There is another face of futuristic-modern Iloilo that needs to be seen and appreciated not only by Ilonggos but by visitors and investors – the P35 billion investment of Megaworld Corporation in Western Visayas, Iloilo Business Park. It is a 72-hectare business township rising in Mandurriao District where modern lifestyle, recreation, leisure, and tourism create a magnetizing appeal for the city.
This is where we can find the biggest convention center, lifestyle mall, the country's longest shop-and dine strip, business hotels, luxurious condominium towers, BPO office towers, and iconic landmarks that will paint a highly-global destination for visitors and investors. The biggest Central Business District (CBD), an epicenter of finance and commerce will be established in Iloilo Business Park to change the landscape of global business in Iloilo City.
There is no stopping the City of Love from reaching the top, moving up to a higher ground of affluence and progress, opening a gateway of exciting opportunities and making a new mark as a destination where one can perfectly live and invest.
ILOILO CONVENTION CENTER
The biggest and grandest convention center in Western Visayas. The iconic Iloilo Convention Center can accommodate up to 3,700 guests. As the reflection of Iloilo's rich cultural heritage, the 15 exterior fins are inspired by Paraw sails and emblems of the Dinagyang Festival are painted on its glass walls.
STREET OF FESTIVE WALK
LONGEST SHOP-AND-DINE STREET IN THE PHILIPPINES
Envisioned as the longest shop-and-dine strip in the Philippines, the 1.1 km Street of Festive Walk boasts of premier restaurants, bistros, and retail shops, all providing a pleasurable experience as the next leisure destination.
FESTIVE WALK MALL
LIFESTYLE AND SHOPPING DESTINATION
The Festive Walk Mall offers spectacular leisure experience from upscale brands, boutiques, event center, and 8 world-class cinemas, all encompassing the lifestyle excitement of the township.
RICHMONDE HOTEL ILOILO
LUXURY BUSINESS HOTEL
A 12-storey premier luxury business hotel with 149 rooms providing world-class accommodation and extraordinary amenities. Its interior design was helmed by Getty's, an international firm that designed some of the world's best Hotels.
COURTYARD by MARRIOTT
THE FIRST COURTYARD BRAND BY MARRIOTT IN THE PHILIPPINES
A 15-storey hotel with 314 rooms that exude highly-luxurious accommodation, world class amenities, and interior design all in the name of passion to provide excellent service.
BPO OFFICES
Iloilo Business Park takes pride of its BPO District, an area within the 72-hectare township envisioned to become the biggest and largest IT Park in Western Visayas. In the next ten years, a total of 10 BPO office towers will rise, generating 30,000 jobs. High-end luxury and competitive opportunities will be a few steps away, emphasizing an inspiring lifestyle elevation for the township and for Iloilo City through Megaworld's "live-work-play" vision.
ONE MADISON PLACE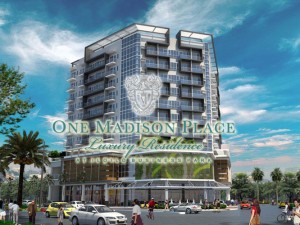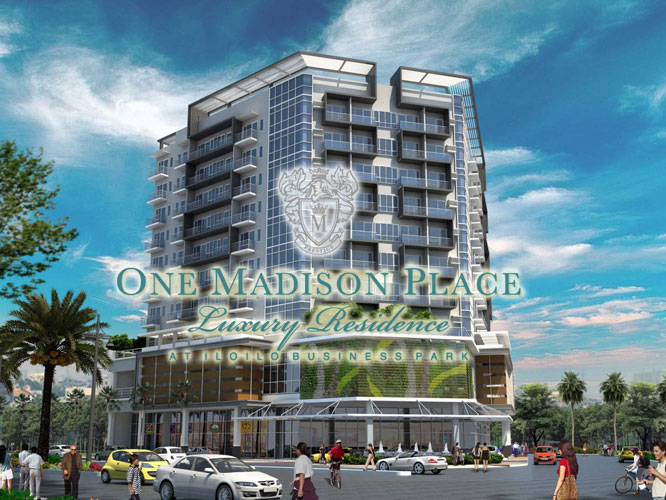 Synergy and Luxury
There's a certain personality and image that reflects One Madison Place, a stunning 3-tower cluster, 10-storey residential condominium that stirs up the feeling of vibrancy, energy and enthusiasm for its neo-modern design. It will suit the preference of residents who are looking for adventure and new approach with their lifestyle. Those who are highly-creative and artistic will enjoy flexible living in the tower with its impressive amenities such as swimming pool, garden with reading nook, and fitness gym. Each condo unit has a unique concept of space and vision where residents can experience grandiose living.
Residents and condominium owners who are in need of visual experience and inspiration will find living in One Madison Place a rewarding choice. There's an endless flow of synergy, passion and luxury while living in this brilliantly-designed contemporary condominium tower where residents are free to chase their desires and stay connected to the exciting developments, high-end establishments, and landmarks offered by a life-larger township.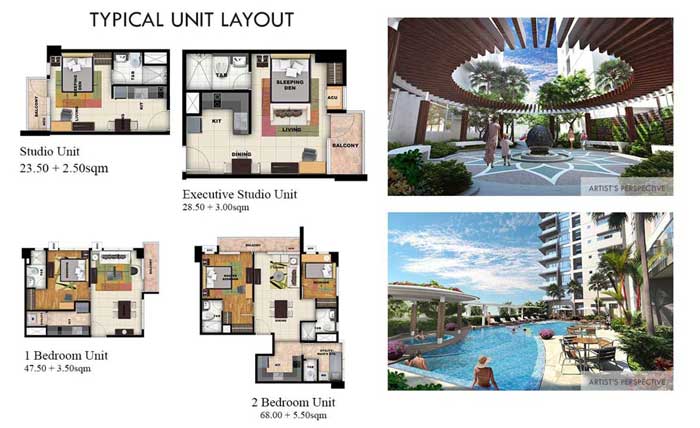 THE PALLADIUM
THE SKY GARDEN LIFESTYLE
A vivid definition of lifestyle luxury and sheer beauty, the Palladium is Iloilo Business Park's "crown jewel" in its highly-sensational residential district. It is perfectly envisioned as the tallest residential tower in Western Visayas with 22 floors – all embracing and captivating for its ultra-classy condominium units and spectacular amenities – welcoming condo buyers and residents whose passion for living exude adventurous character, ambitious perspective and close-to-nature desires.
Drench yourself in The Palladium's luxurious Infinity Pool where imagination and pleasure go beyond vision. A breathtaking view of the booming Iloilo City will elevate your senses as you experience an extraordinary pampering and leisure like no other.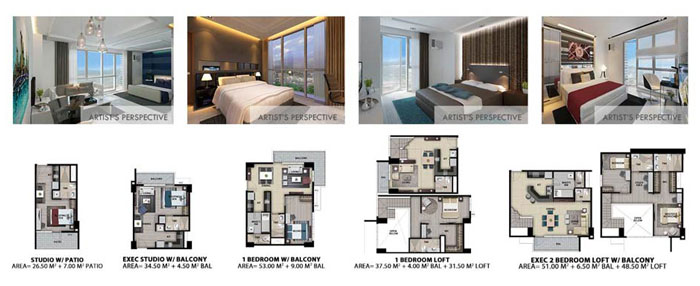 The finest experience of luxury redefines the concept of condominium living with The Palladium's Penthouse Loft Units. Visually mesmerizing at the topmost floor of the tower, each of these posh condominium unit exudes a vision suited for interior design flair with a second floor for extended space and comfort.
A glimpse of serenity, a pocket space with nature's beauty and tranquility, The Palladium takes pride of its very own multi-level sky gardens complete with pleasurable elements and design where residents can commune with nature. The Palladium is the first and only residential tower to offer such distinct amenity, cementing its reputation as the most luxurious and most-admired condominium tower in the region.
BOUTIQUE HOTEL AND COMMERCIAL DISTRICT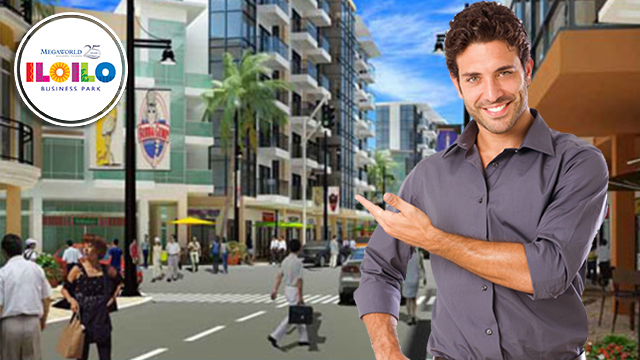 The 9.7 hectare Boutique Hotel and Commercial District is the venue of future financial epicenter of the region.
Cementing the claim of Iloilo Business Park's vision as the next epicenter of business and commerce is its very own Boutique Hotel and Commercial District, a 9.2-hectare area comprised of 60 prime lots located in 10 blocks. It is envisioned to become the largest Central Business District (CBD) in Western Visayas.
Iloilo Business Park allocated 9.2 hectares, consisting of 60 prime lots in 10 blocks for the entire commercial district. With its Boutique Hotel and Commercial District, multinational companies and investors keep coming in, giving interest in purchasing prime commercial lots in the township to secure promising business ventures. Financial institutions and banks are eyeing to establish regional headquarters in Iloilo Business Park to ensure their presence in the fast-growing economy of Iloilo City. Iloilo Business Park's Boutique Hotel and Commercial District is destined to become the busiest and most vibrant area in the township due to massive investments coming in.
http://iloilocondominiums.com/wp-content/uploads/2015/01/featured-image-for-IBPvsOTHERS.jpg
360
640
admin
http://iloilocondominiums.com/wp-content/uploads/2014/01/iloilo-condominiums-logo1.png
admin
2016-05-19 06:16:24
2016-05-20 00:01:26
ILOILO: A Fast-Rising Metropolis