You can view the video below
Here's a complete transcript of the interview of Jennifer Palmares Fong, VP of Sales and Marketing, Megaworld IBP Division.
For almost three decades, Megaworld has grown to become the country's leader and pioneer in developing urban townships. Through its word-class, mixed-use and well-planned communities, the property giant takes pride to become an economic engine of growth and instrumental in the cultivation of national taste and real estate standards. The company successfully shaped the new urban landscape by infusing its pioneering LIVE-WORK-PLAY-LEARN lifestyle concept.
Each township is composed of residential condos, commercial establishments, high-end office towers, educational institutions, and leisure hubs in one secure area. They're known to have redefined the lifestyle that led the way to a brighter and more progressive Philippines.
Now, this real estate giant has come to the vibrant province of Iloilo through the development of Iloilo Business Park (IBP) which provides world-class facilities and amenities for Iloilo's bid to become the country's convention capital.
Iloilo is the happening city in Western Visayas for education, medical & leisure accommodations, and now it's also a home for business centers.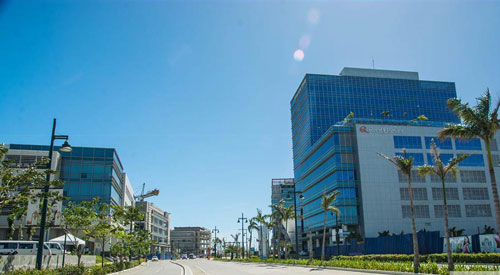 Bianca Gonzalez: Miss Jen tell us what exactly is it about Iloilo that made Megaworld decide to invest big time here.
Jennifer Palmares Fong: Actually Bianca, in terms of geography, Iloilo is at the center of the Philippines. The location is very ideal because it is surrounded by major provinces in the Visayas region. We are (Iloilo is) the gateway to the South, that is why a lot of government offices, businesses, establishments, and schools have made Iloilo its regional hub.
Iloilo has vibrant economy with plenty of opportunities for locals and business establishments. Also what's nice about Iloilo, the city has rich culture and history. Both foreign and local tourist to experience what we have to offer here.
The 72-hectare Iloilo Business Park in Mandurriao District has activated Iloilo in become the biggest centerpoint of progress in Region 6 by having the biggest commercial district conducive for financial institutions.
BG: So what does Iloilo Business Park offer in terms of real estate for commerce specifically?
JPF: Iloilo Business Park is the largest township in the middle of the city. Our company has created a modern and environmentally sustainable masterplan development that caters to everybody especially to businesses. We envisioned IBP as the financial hub of Western Visayas.
We have commitments from major banks and financial institutions to set up their regional offices here. Iloilo, being the center of education in the region, there's a lot of capable young individuals (who) are ready to take part in the emergence of the BPO industry. Right now, we have our first four BPO buildings — namely, One Global Center, Two Global Center, One Techno Place, and Three Techno Place.
To support all of these activities, we have an 8-lane road called Megaworld Boulevard. We have an intelligent traffic system and we have lined up our entire project with bike lanes, LED lights and Mahogany trees along the street areas.
Megaworld has alloted 5-billion pesos for ten office towers until year 2021 in Iloilo Business Park making the township the busiest business hub in the city.
BG: Megaworld has been very well-rounded with all of its developments. So, after work, tell us about any place where the employees can unwind here in Iloilo Business Park.
JPF: We are committed to bring in the best and the finest establishments here in Iloilo. First off is the Richmonde Hotel Iloilo, a 12-storey luxury business hotel with 149 rooms providing world-class accommodation.
Another hotel we have in the township is the Marriott Courtyard Hotel that will provide extraordinary experience for guests and visitors. This is the first Courtyard brand of Marriott in the Philippines. They can also unwind at the Street of Festive Walk and Festive Walk Mall. Both establishments will provide a leisure experience where they can shop and dine.
BG: I understand that Megaworld has donated a piece of land inside Iloilo Business Park to build the Iloilo Convention Center. That's super exciting. Can you tell us about that?
JPF: Actually, the Iloilo Convention Center was designed to draw local and international conventions and events. The APEC meetings were held in Iloilo Convention Center last year (2015). Basically what's good with the Iloilo Convention Center is that the building is sandwiched by two award-winning hotels — the Marriott Courtyard Hotel which is an internationally branded hotel and the Richmonde Hotel Iloilo.
BG: This is huge for Iloilo, having delegates coming from all over the country, all over the world for different conventions here. Where exactly in Iloilo Business Park will be they staying?
JPF: Delegates attending such conventions and events can stay and even transact business at Richmonde Hotel Iloilo and at Marriott Courtyard Hotel. In addition to these world-class hotels, Iloilo Business Park has its own Boutique Hotel and Commercial District. We also offer prime commercial lots in ten blocks to cater to the business ventures of local and national investors. These boutique hotels can be the perfect venue for those coming from different locations.
BG: How about for those, Miss Jen, who… 'ika nga… wants to stay close to the action and make this their lifestyle 24/7? What can they look forward to?
JPF: Iloilo Business Park also offers premiere residential condominiums. In 2013, we launched One Madison Place — a cluster of three towers with ten storeys each. It is of modern contemporary style.
In 2014, we launched Lafayette Park Square, the first themed condominium of IBP. It evokes a European lifestyle — a mix of French and Spanish architecture.
In 2015, we launched the tallest building in Western Visayas and we call this building The Palladium. It is 22 storeys high with four multi-level skygarden, an infinity pool in its amenity deck, and the tower has loft-type units.
For those who intend to stay in Iloilo and make this their 24/7 lifestyle, Iloilo Business Park condominium towers will be the best choice for your residence.
Be where the action is… Don't get left behind. Live a progressive lifestyle because bigger things are happening at Iloilo Business Park.
http://iloilocondominiums.com/wp-content/uploads/2016/06/bianca-jen.jpg
720
1280
admin
http://iloilocondominiums.com/wp-content/uploads/2014/01/iloilo-condominiums-logo1.png
admin
2016-06-15 11:15:20
2016-06-16 05:15:27
Bianca Gonzalez wowed by Iloilo Business Park